Opening Word
The Opening Word is a literacy, ESOL, and job readiness program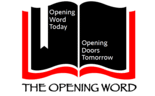 Opening Word is a sponsored Ministry of the Sisters of St. Dominic and it increases English language literacy for 280 immigrant women annually at three Long Island sites.  
Founded in 1991 by Sister Mary Ryan, OP, the OPening Word began with five women in Wyandanch. What began as an ESL program for immigrant women 30 years ago, has expanded to meet the evolving needs of the women served. Recognizing that to be successful with increasing English language skills, they also had to address other challenges the women face daily. Opening Word was restructured to accommodate the immediate needs of the women: these include but are not limited to hunger, mental health, advocacy, housing, job readiness, and citizenship.
Opening Word is open from September through early June.  Classes are held five days a week, Monday through Friday from 9:00 AM until 2:00 PM. Volunteers work with teachers and two caseworkers to:
Strengthen English language skills.
Focus on family development and health literacy.
Empower participants to improve mental health and self-esteem.
Provide job readiness and post-secondary educational experiences.
Prepare eligible students for U.S. citizenship.
Alleviate food insecurity.
For more information about the OPening Word, please contact:
View Our Story of The Opening Word: