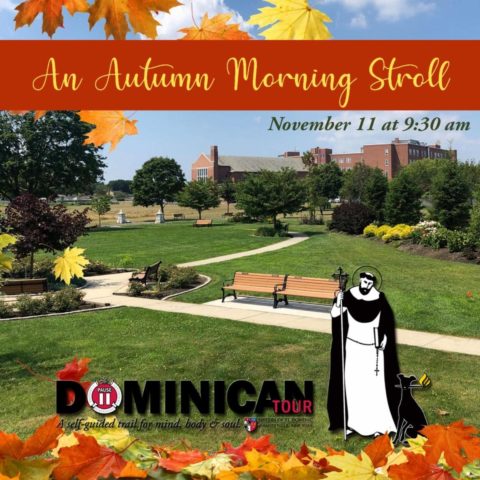 An Autumn Morning Stroll:
Take a Dominican Pause
This easy one-mile stroll around the grounds of the Dominican Motherhouse is a treat for mind, body, and soul. With a guide, you'll be exposed to a bit of the story of the sisters, see sights that have been placed on the National Registry, hear some thoughtful nuggets for reflection, and simply be regaled by beauty. Children over seven years of age, with parental supervision, are welcome. The walk concludes with coffee and sweets in the sisters' gathering room.
Date and Time: Saturday, November 11, 2023, at 9:30 AM
Location: Queen of the Rosary Motherhouse, 555 Albany Avenue, Amityville, NY
Register via email: wmft.reservations@gmail.com
See our web posting and Facebook Event.
If you are unable to visit our Dominican Pause Walking Tour in person on November 11th, view our webpage to take our virtual tour.
Dominican Month for Peace 2023: "Committed to the Amazon" In this Dominican Month for Peace 2023, we would like to invite you…
more
December Compline (a prayer liturgy for the end of one's day) Join others on these long, dark nights to cast light into…
more